Friday, September 02, 2011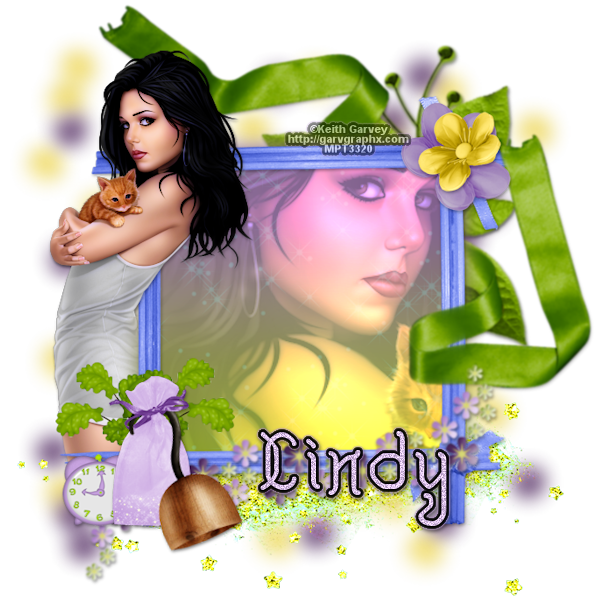 Supplies:
Tube of choice. I am using the awesome work of Keith Garvey available at
his store
PlugIns: Xero-Porcelain & EyeCandy5-Impact
Font: Akashi MF
Let's Get Started:
Open a new 700x700 image (will refer to it as your canvas from time to time)
Paste Frame 1 to canvas Image> Resize 85%
Paste Paper 14 and drag it to where it is under your frame layer. Select Wand tool and your frame layer. Click inside of the frame. Selections> Modify> Expand by 10. Selections> Invert. Select the paper layer in your layer list on the right and then hit the delete key on your keyboard.
Adjust> Blur> Gaussian Blur> Radius 10. Resize by 110%.
Paste tube of choice, using a close up for this part works better but can use whatever you have available to you, drag this layer between your frame and paper layers. Resize as needed so that it covers the paper. Select Wand tool and your frame layer. Click inside of the frame. Selections> Modify> Expand by 10. Selections> Invert. Select the tube layer in your layer list on the right and then hit the delete key on your keyboard.
Still on the tube layer Effects> PlugIns> Xero> Porcelain: Softness 50, Strength 128, Brightness 128, Red Channel 0, Green Channel 0, Blue Channel 255
Change Blend Mode to suit the tube that you are using. I used Dodge and changed the Opacity to 60% (Incase you are unfamiliar with where to find the Blend Mode it is located just above the Layer Palette as a drop down box).
Hide your frame layer and then merge visible (click the eye next to your frame layer in the layer palette and then right click on another layer).
Unhide the frame layer and add drop shadow. Effects> 3D Effects> Drop Shadow: Vertical 2, Horizontal 1, Opacity 35, Blur 5, Color black
Paste Frame 4 and Resize by 90%. Duplicate the frame. Place one layer under the paper/tube merged layer and above Frame 1 layer.
Using your erase tool select the top Frame 4 layer and remove the portion of the frame and ribbon that are over frame 4.
Select the bottom frame 4 layer Adjust>Softness> Soften and then Adjust> Softness> Soften More
Drop shadow to the same settings as before. Select what is left of the top top frame 4 layer Adjust> Blur> Gaussian Blur 1
Paste Elememnt 60 and drag to bottom layer. Place at bottom of frame. Duplicate, Adjust> Color> Red/Blue/Green> Red -100, Green 30, Blue 100
Change Blend mode to saturation.
Paste Element 57 and resize to 35% Position at the bottom left of the frame. Add drop shadow.
Paste Element 62 drag to bottom Gaussian Blur 10 and Resize 110% Psotion like in example
Paste Element 63 Image> Flip, Gaussian Blur like before, Resize to 115%, and drag to bottom positioning like example.
Paste Element 54 and resize 35% and then 85%. Drag behind the purple bag layer duplicate, Image> Mirror and position like in the example or as you desire.
Paste Element 37 Resize by 30% and then 55% place behind purple bag layer to the left and add shadow.
Paste Element 36 drag behind second Frame 4 layer and place at the top right. Gaussian Blur 1 and add shadow same settings as before.
Paste Element 29 and resize to 25% drag to top layer and place at top right of frame.
Paste Element 30 and resize to 30% place under yellow flower and add drop shadow to both.
Paste full body tube. Mirror the tube, drag layer behind green leafy layers (Element 54)
Add Porcelain effect like before with same settings. Duplicate the tube and change Blend Mode to Soft Light
Merge tube layers together. Duplicate again and drag one behind the paper/tube merge layer.
Drop Shadow bottom tube layer.
Select top tube layer, Using the Eraser tool remove bottom of tube that is over frame.
Paste Element 18 Resize to 35% place at bottom left over paper bag. It should give the appearance that the hook is around the bag. Duplicate and drag one layer under the purple bag. Select teh top hook layer and use erase tool to remove the part of the hook that is over the bag.
Drop shadow bottom hook layer.
Paste Element 16 place as desired Adjust> Color> Red/Green/Blue same as before and change blend to desired. I changed mine to Sreen at 23% opacity.
Paste Element 14 and resize to 75% drag under green leafy layers Gaussian Blur 1 and add drop shadow.
Merge Visible.
Image> Canvas Resize> 685x685 adjust tag position using pick tool so that it is recentered on the canvas.
Resize tag to 600x600 making sure to change the settings to pixels and select all layers.
Add copyright
Add name. I used Akashi MF size 100 using color #d8bfe7
Convert to Raster
Adjust> Add/Remove Noise> Add Noise Uniform 37 Monochrome checked
Effects> PlugIns> EyeCandy5> Impact> Gradient Glow Glow Type Outside, Glow Radius 5, Soften Corners 8, Overall Opacity 100, Distortion Amount 0, Distortion Lump Size 7, Gradient Smoothness 100 color black with a small amount of #bb97d3
Shadow vertical 2, horizontal 1, opacity 54, blur 5 color black
Merge Visible
Save as PNG
Thank you for trying my tutorial.
About Me
SuthrnPrincess

I am a mom of 5 rambunctious and audacious kids. 1 girl and 4 boys. I started out tagging and fell in love with my PSP. I am with the most wonderful man in my world, George. If you make something with a mask or template I would love to see it. Please feel free to email me at georges_princess@yahoo.com. If you make a tutorial please link back to my blog for supplies do not include my materials nor link to my file share site. I would love to put your tutorial link on my blog so please feel free to email me :).
View my complete profile

Labels

Blog Archive

My Yahoo Group
Click to join TutYourHeartOut