Monday, September 05, 2011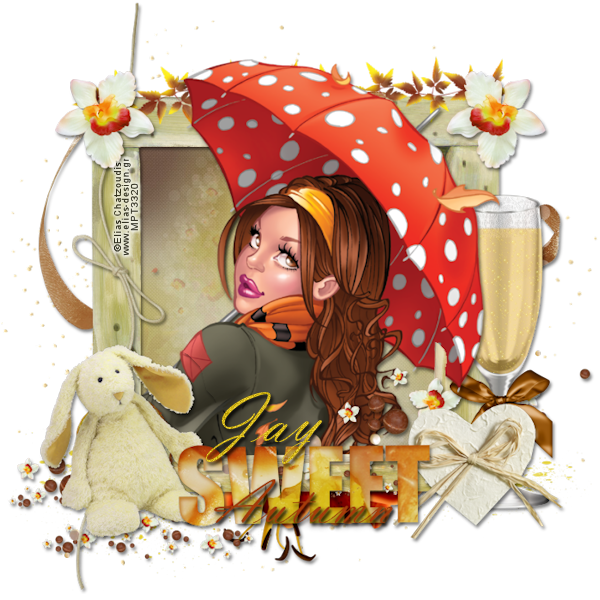 Supplies:
Tube of choice. I used the beautiful work of Elias Chatzoudis available at
his store
PlugIns: EyeCandy5-Glass
Font of choice. I used Vladimir Script
Let's Get Started:
Open a new 700x700 image (I will refer to it as your canvas from time to time.
Paste Element 6
Paste Element 20 Image> Resize to 50% and use your pick tool to position at the bottom right corner of frame.
Paste Element 19 Resize to 45% place at bottom left of frame
Paste Element 16 Drag the layer in the layer palate behind Element 20 and position like in my example.
Paste Element 22 Image> Free Rotate> Right 90 degrees. Image> Resize to 95%
Paste Element 36 Drag to bottom layer in the layer palate and position like in the example.
Paste Element 34 drag to bottom layer again and position. Use your pick tool to stretch to fit the width of your canvas if desired.
Paste Element 33 drag layer above frame layer and position at bottom.
Paste Element 32. Using your pick tool resize it so it fits width wise at the top of the frame.
Paste Element 31 and resize to 75%. Drag the layer to where it is the bottom layer and then position element to where it is viewable under the frame.
Paste Element 30 and resize to 70% drag layer above frame layer and position at bottom.
Open Element 28 and use freehand tool to draw a circle around the fower to the far left. Copy and paste this flower to your canvas. Position at the top left of the frame, duplicate, Image> Mirror.
Paste Element 45 and resize to 50%. Place at the bottom of the frame. This should be your top layer.
Paste Element 48, Image> Flip, Resize to 85%. Drag layer behind frame layer and position where it is viewable under Sweet.
Paste tube and drag behind frame layer. Duplicate and drag this layer behind Sweet layer. Use erase tool on top tube layer to remove portion that covers bunny and other elements.
Select frame layer. Use wand to select inside of the frame. Selections> Modify> Expand by 10, Selections> Invert. Select bottom tube and hit the delete key on your keyboard.
Paste Paper 4 drag behind bottom tube layer and resize to 50%.
Select bottom tube layer, Effects> 3D Effects Vertical 3, Horizontal 2, Opacity 50, Blur 5, Color black
Do this to the top tube too and erase whatever shadow appears within the tube.
Shadow all elements except the bottom 2 layers.
Add Autumn in font of choice. I used Vladimir Script size 72 color #b8430d
Effects> PlugIns> EyeCandy5> Glass Bevel Width 82.77, Bevel Smoothness 0, Round Selection Corners 0, Bevel Placement Inside, Glass Color #b8430d, Opacity 100, Tinting 0, Refraction 50, Inner Shadow Opacity 75, Drop Shadow Opacity 40, Shadow Offset 11.16, Shadow Glow 20, Direction 78, Inclination 84, Highlight Brightness 50, Highlight Size 62, Highlight Color #f6c10a, Reflection Map None
Drop shadow change opacity to 100
Merge visible
Resize to 600x600
Add copyright
Add name, I used the same font, the only thing I changed was the color to #d7ba1c.
Adjust> Add/Remove Noise> Add Noise Gaussian 20
Shadow same as before.
Merge Visible
Save as PNG
Thank you for trying my tutorial and a huge thank you to Bello Scarto for allowing use of the kit! It was a pleasure to work with.
About Me
SuthrnPrincess

I am a mom of 5 rambunctious and audacious kids. 1 girl and 4 boys. I started out tagging and fell in love with my PSP. I am with the most wonderful man in my world, George. If you make something with a mask or template I would love to see it. Please feel free to email me at georges_princess@yahoo.com. If you make a tutorial please link back to my blog for supplies do not include my materials nor link to my file share site. I would love to put your tutorial link on my blog so please feel free to email me :).
View my complete profile

Labels

Blog Archive

My Yahoo Group
Click to join TutYourHeartOut