Wednesday, August 24, 2011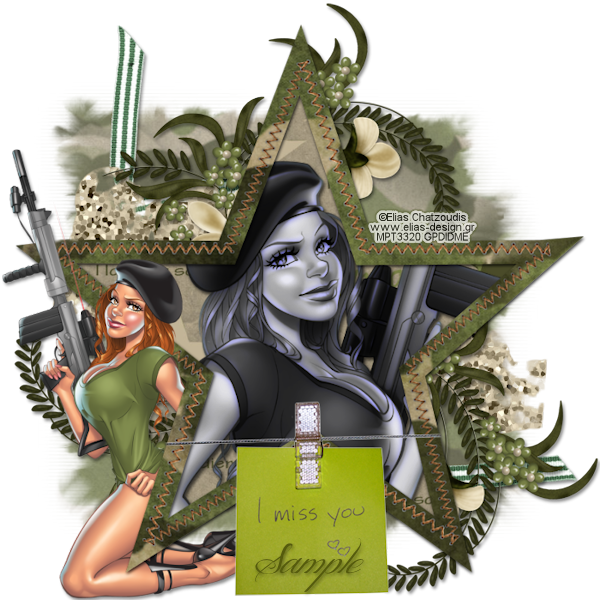 Tube of choice I used Elias Chatzoudis. His work is available at his store
Font of choice I used Shit Happens
Paste frame 2 from kit and resize 80%
Paste Paper 15 and resize 75%. The paper should fit without any other steps behind the frame. If not please use the following steps. Use your wand to click inside of the frame, Selections> Expand by what is needed to make it fit. Selections> Invert then hit your delete key.
Add Drop Shadow to frame with the settings Vertical 2, Horizontal 1, Opacity 80, blur 5, Color Black.
Paste Element 1 Resize 80% move to bottom and use your erase tool to remove parts that hang over.
Paste Flower Painting 1 and place at the top point of the frame. Drag to bottom layer and then duplicate. Image> Free Rotate to the right 90 degrees move to the bottom right.

Duplicate this flower painting layer and Free Rotate to the right 90degrees again. And move to the left bottom point. Erase any that overlap on top left or top point.
Paste Camo Glitter 1 leave where it pastes and drag the layer to the bottom.
Paste Ribbon 4 Free rotate left 45 degrees and then drag to bottom layer.
Paste tube close up then drag layer under frame.

Select frame layer and use wand to click inside of it. Selections> Modify> Expand by 17. Selections> Invert and reselect the tube layer. Hit the delete key on your keyboard.
Effects> Photo Effects> Black & White Film to the settings Green 20, Blue 10, Red 70, Brightness 0, Clarify 50
Effects> Plug Ins> Xero> Porcelain to the following settings Softness 50, Strength 128, Brightness 128, Red 0, Green 0, Blue 255
Drop Shadow Vertical 3, Horizontal 2, Opacity 45, Blur 5, Color Black
Duplicate and change blend mode of tiop close up layer to Multiply and then merge the two layers together.
Paste Full Body tube Image> Mirror and then drag to the bottom left and position as desired.
Duplicate and place one above the frame layer and one under the paper layer. Select the top tube layer and use your erase tool to remove what is over the frame like in my example.
Shadow the bottom tube and the remaining elements that have not been shadowed yet with the exception of the glitter layer.
Paste paper 5 and drag to the very bottom layer. Resize the paper to 90% and apply mask. Using your deformation tool resize the masked layer as desired and then merge group.
Merge visible and resize to 600x600.
Add name. I used Shit Happens and the color #555b0d
Add drop shadow Vertical 2, Horizontal 1, Opacity 45, blur 5, color black
Thank you for trying my tutorial. I hope that it was not confusing or difficult in any way. If you did encounter any problems please email me and I will see if I can help you through it.
About Me
SuthrnPrincess

I am a mom of 5 rambunctious and audacious kids. 1 girl and 4 boys. I started out tagging and fell in love with my PSP. I am with the most wonderful man in my world, George. If you make something with a mask or template I would love to see it. Please feel free to email me at georges_princess@yahoo.com. If you make a tutorial please link back to my blog for supplies do not include my materials nor link to my file share site. I would love to put your tutorial link on my blog so please feel free to email me :).
View my complete profile

Labels

Blog Archive

My Yahoo Group
Click to join TutYourHeartOut